It's been a been a busy few weeks and we are just getting around to actually making some decisions about what is going on with Elijah's room. It was partly because we were trying to decide which room to redo. It was either the room he is currently in or the bigger second bedroom. We thought about it for a week or so and decided since there are dogs who bark early in the morning, next door, it would be best to keep him where he is, so he wouldn't be disturbed while he was sleeping.
But anyway, we went to Lowes and Home Depot the other night to look at some things and check out prices. First we looked at paint colors because I was still kind of undecided about the exact color. With the help of that nifty little contraption that let's you see what the color looks like in sunlight and under florencent lighting, we chose Behr's "Winsome Hue".
This color goes great with the carpet we found last night that was only about $2.30 a square foot w/ padding. So to carpet his room it would be about $210. Not too shabby. It's Stainmaster carpet and is an off white/cream color. The two look really nice together. But onto the main reason for this post.... Furniture and accessories... here goes nothing: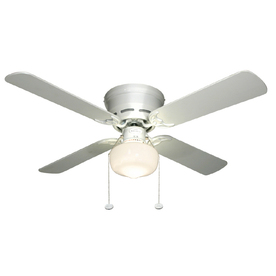 We are toying with the idea of putting a ceiling fan in his room. If we do, this is the one we would get. It's from Lowes and is the dirt cheap price of $24. The only thing we would have to worry about is someone to install it. If we don't go that route we'll probably get a floor lamp.
If we do get one this will probably be the one that we'll get. It looks much more fun in person. I also didn't notice it had pink in it, so either I was too distracted at the store or the pink looks red, in person. But what can I say, it's a $19 lamp...
He already has this bed that we bought at
Buy Buy Baby
(awesome baby store). And I don't have a picture of the dresser that we got, but it's long and relatively short, which is good because I want to put a TV in his room too.
I want to get a little night stand for his bed, so he can put his books, or whatever, on it and store his secret things in the drawer. I searched for days and days and found this one at Amazon.com. The $60 price tag, in my opinion, was ridiculous for a night stand. I just couldn't bring myself to pay it, but I really liked it. By chance I happened to look at Walmart.com to see what I could find and I found the exact same table for $33.54. Score!
The only problem with that table is that it's 22" tall and I'm not sure if it will look right next to his toddler bed. I figure if it's too tall I'll just use it to hold the chalk and eraser for his chalk board. Then when he gets older and into a twin size bed we'll use it as a night stand then. If that is the case, we'll be getting this night stand I saw at Ikea.
Either way, we're getting a little lamp for on top of the table. I saw this lamp at Ikea that would be a nice "reading at night" lamp. The best part of this lamp is the easy way to turn it on and off. You see the white dot on the bottom of the lamp? It's silicone and all you have to do is push it down to turn it on and again to turn it off. Totally toddler safe. I love it.
For the windows I want to get Navy colored curtains. I found
these
at JCPenney... they are a bit pricey, but they are also thick and have some special thing on the back to help keep out the cold and heat, so I guess if I want to spend the money it would be money well spent. Plus when we move this is actually something that can come with us.
For a toy box we are moving the one we have in the living room, upstairs. Since it has a bookshelf on top that saves us from having to buy a separate bookshelf, until he gets older.
I think that's it. Hopefully it'll all fit... Haha.
The last installment of this little project will be coming soon. It's entitled "What should I put on the walls?" I already have some ideas, so make sure you come back and check them out.